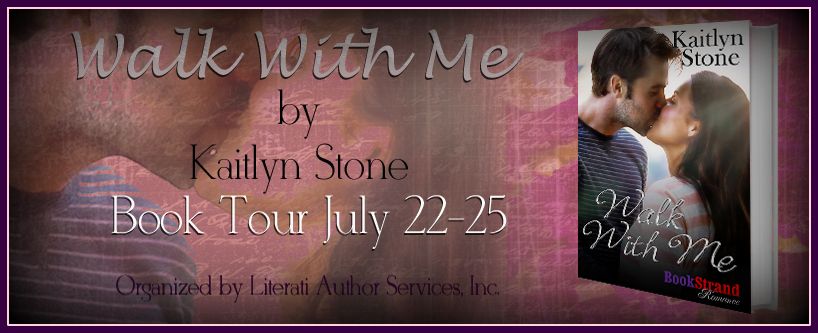 Welcome to my Blog Stop on the WALK WITH ME Blog Tour!
Title: Walk with Me (The Thin Blue Thread)
Author: Kaitlyn Stone
Genre: Contemporary New Adult
Publish Date: July 22nd, 2014
Publisher: BookStrand
Oraganized by Literati Author Services
~ Synopsis ~
After escaping her abusive parents, nineteen-year-old Kenna Sloane is determined to create an independent life, free of emotional distraction. The last thing this focused college student wants is a relationship, especially with a hot rookie cop popular with the badge bunnies.
When Kenna reluctantly agrees to a double date with Santa Monica cop Donovan Alexander, she's launched on an exciting and dangerous journey. With time, she discovers some souls are instinctively drawn together to quiet the pain of their traumatic pasts. But even after the revelation of Donovan's own secret burden, Kenna continues to battle the fear she may be too broken for her modern day knight in blue.
Can Kenna open her heart to the healing light of true love before peril strikes?

(Click on Teaser to Enlarge)
MY THOUGHTS
Kaitlyn Stone just put the "New" in New Adult with Kenna and Donovan's story. By that, I mean that Kenna and Donovan—even though they are broken people—choose not to let their brokenness be an excuse to lead them down the wrong path in life. Kenna was an abused child and teen, and Donovan carries false guilt of a family tragedy. Both chose careers that would help heal them in their mind and body, by giving of their selves and offering help to maybe saving others. But there was still one more place that needed healing, and that was their hearts. For that they needed each other.
Kaitlyn Stone has written a beautiful love story with Kenna and Donovan. It's a love that finds two people who are truly meant to be each other's soul mates. Who would not be complete without each other. The one and only true love of your life of that person who loves you unconditionally. That's the power of true love that will bring the full healing for these two damage hearts. Kenna and Donovan will mend each other with the healing light of true love from their own brokenness.
WALK WITH ME is definitely the right title to describe Kenna and Donovan's love story. I even love the way they knew not to rush, but wait for the right time in their relationship to make love, so it would be beautiful and they were able to cherish one another. I highly recommend WALK WITH ME as a love story that will touch your heart and make you wish for your own.
5 Hearts of Love
(Click on Teaser to Enlarge)
About the Author
Since childhood, Kaitlyn Stone has gravitated toward fairy tales and happily- ever-after's, forever chasing the first love dragon. She is a self-professed adventure junkie, constantly talking her husband and family into some new life adventure, where they've learned to just buckle up for the exciting ride. When they do stay home, it's in sunny Southern California located along the Pacific Ocean.
Connect with the Author
Giveaway $25.00 Gift Card